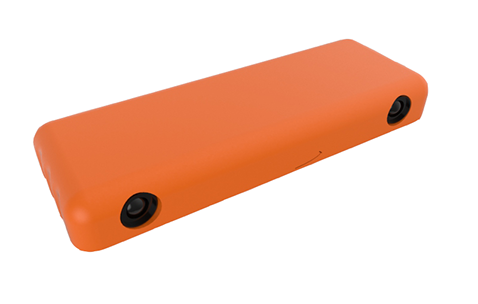 PHOBOS STEREO CAMERA SYSTEM
REAL-TIME STEREO MAPPING USING PHOBOS
Phobos is a high-resolution stereo vision camera system that uses 5 Megapixel cameras and can operate at 30 fps over a USB3.0 interface. The cameras use a global shutter and are suitable for imaging moving targets.
A software toolkit is provided to allow users to re-calibrate the cameras, acquire and match stereo imagery, and view/output 3D point clouds using i3Dr's state-of-the-art stereo matching algorithms. The instrument is compatible fully with OpenCV and ROS.
General Information
Interface   /   USB3.0
Camera resolution (px)   /   2,448×2,048 (5 MP)
Pixel Size   /   3.45 µm x 3.45 µm
Bit depth   /   Monochrome 8/12-bit
Sensor (x 2)   /   Sony IMX250LLR
Framerate   /   30 fps
Focal length   /   8 mm
Focus   /   0.8 m to 1.25m*
Shutter type   /   Global
Synchronisation   /   Hardware triggered
Exposure range   /   20 µs to 4 s
Software compatibility   /   Windows 7+, Linux (inc Rasp. Pi). UVC compliant, OpenCV compatible, ROS

* The Phobos stereo systems are factory-focused for an optimum measurement at 1m. Please contact us if you require a different measurement range as the focus range may be adjusted.