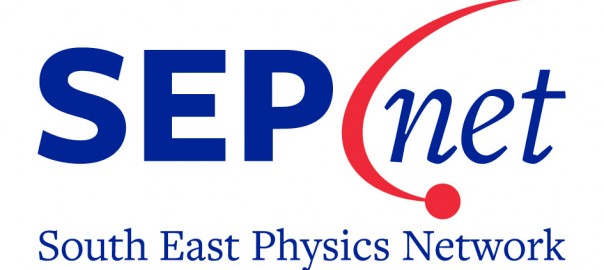 The future of scientific innovation and furtherment in the UK is the development of our students, and i3D robotics is committed to being part of the drive to support the future. As such, we're part of the South East Physics Network (SEPnet), a collaboration between several universities in southeast England and commercial employers.
SEPnet universities are Hertfordshire, Kent, Open, Portsmouth, Queen Mary, Royal Holloway, Southampton, Surrey, and Sussex. Each year, they seek to put second and third-year physics and, since 2020, maths students into an eight-week paid internship where they get to apply the skills and knowledge from their degrees and apply them to real-world projects. Employers are invited to post a vacancy for a specific requirement, and students then apply for the positions their studies are suited to.
During the placement, students get hands-on experience in a working environment, working on real projects. Employers benefit from having a fresh set of eyes on a challenge which often sparks innovation and further development. The experience increases the students' employability and helps with future employment prospects. Quite often, students are offered positions with the companies where they've spent their placement.
On completion of their internships, students are required to produce a poster outlining the project they've been involved with, describing how they overcame various challenges and showcasing what they've learned. These posters are displayed at the annual SEPnet Student's Expo held in London, where prizes are awarded for the best poster in named categories.
In 2018, Luke Cornwell joined us from the University of Kent to spend eight weeks delving into the challenge of object and environment 3D mapping with stereo vision as part of a project we were involved with for mapping the interior of legacy nuclear gloveboxes at Sellafield. For robots to perform tasks, they require information about their environment to navigate through it and interact with their surroundings. Therefore, systems are required capable of producing the needed 3D information. As such, Luke's work with us aimed to devise a method for producing 3D maps of gloveboxes and rooms to allow the implementation of robotics.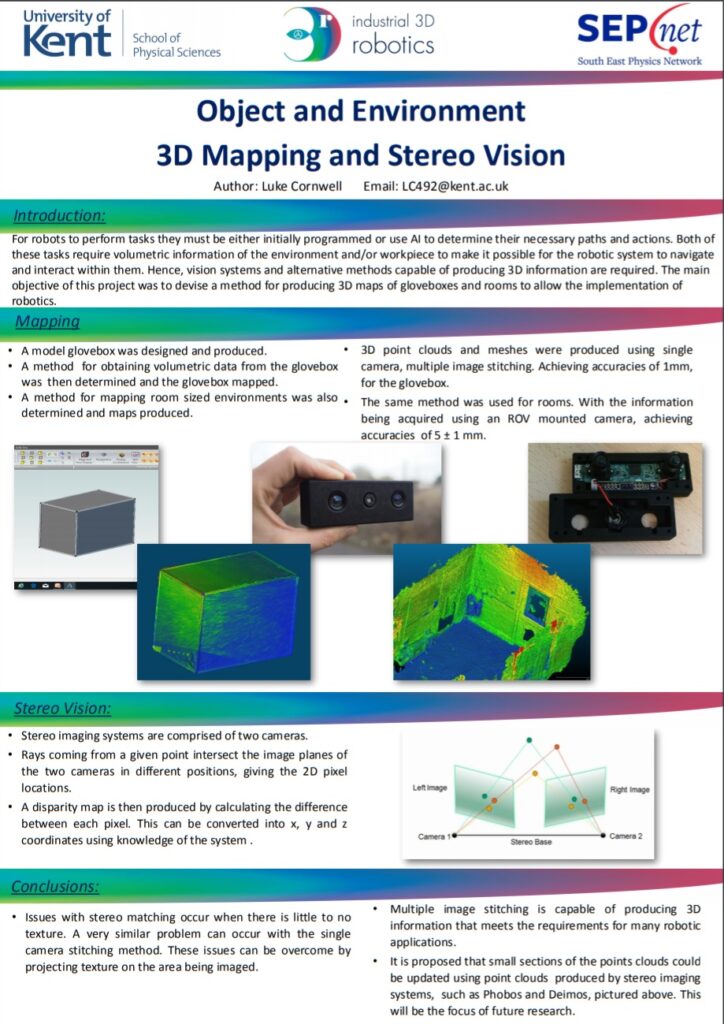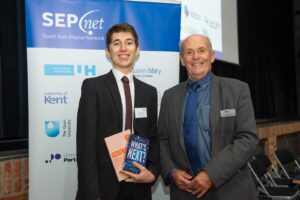 Luke's poster won a prize at the annual SEPnet Student Expo in November 2018.
Also, in 2018, Gianluca Cientanni joined us during his second year at Queen Mary University of London. His task was to perform feasibility tests for standoff measurements using ArUco markers and laser line triangulation methods. He was also to design and build a wireless, distributed sensory network for condition monitoring in social housing. This was to support the work we were doing on the IDEMA project,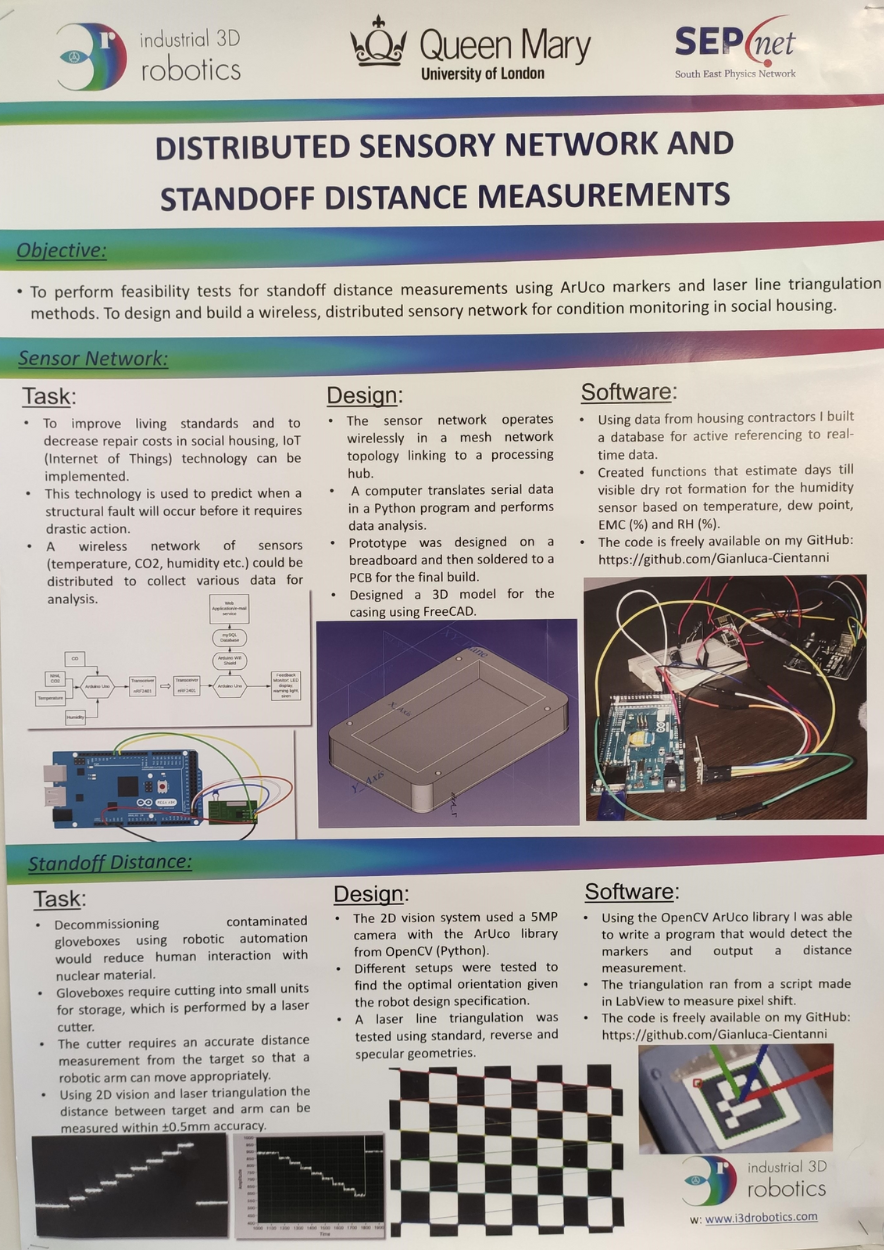 In 2020, Jorge Luis Fuentes Venegas joined us from Queen Mary University London. As he joined us during COVID-19 and lockdowns were on and off, his placement with us wasn't as standard as with our other students. However, Jorge was working with our software developer and machine learning specialist building a cartesian robot. He was also involved in building our bespoke machine learning for sharps detection. This was integrated into our Callisto system and put in place for decommissioning nuclear gloveboxes.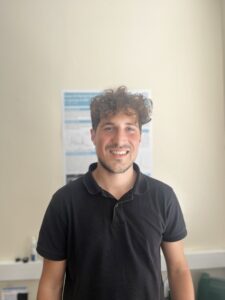 Nicolo Tuccori joined us in the summer of 2023 when he was in the final year of his PhD at the University of Sussex. His study area was experimental particle physics, specifically for optimising detection systems in the Security and Medical industries.
During his time with us, Nico is developing the infrared capability of Titania, our small-form stereo-vision camera. In addition to working with our Hardware Engineer, Dr Lahiru Lulbadda, and Software Developer, Dr KinYip Chan, Nico has also accompanied them on visits to some of our partners' sites for active projects ATRIS and IRIFIO Demonstrator.
"The SEPnet project is an excellent programme for coaching upcoming talent, both the students and our team. Managing and supervising SEPnet placements encourages the growth of management skills within our team for the staff charged with overseeing the intern. This provides valuable and continuous learning for them. As a company, we benefit from new, keen, and sharp minds bringing their unique experience to our challenges, which can help move projects forward." Nicholas Bantin, Director, i3D robotics.
i3Dr continues to offer opportunities to SEPnet students as well as collaborating with the National Centre for Universities and Business on their #MakingSmallMighty campaign.
About the author : Sarah Marsh-Collings